Closure of a round-the-world CF trip
By Henk Lunshof, Perris, 18 October 2019
After the exciting CFS exhibition jumps in China, from 10 to 13 October, and the successful World CF Sequential Record jumps on 16 and 17 October at Skydive Perris, the focus was transferred to the CF Night Record and the Path of Excellence Awards for the 100-way record holders who had flown that fat biggie in November 2007 at Skydive Lake Wales.
The Night Record attempt started when we did a first one pointer attempt on the Thursday. However, we had a very negative experience with thermal conditions in the early afternoon. Very suddenly and intensely, thermals hit the 43-way we were building. The formation splashed apart in sections. There was an entanglement involving Henny and Martin, and Henny had to make a difficult choice, whether to land them both together. All respect to Henny for his assessment of the situation and decision to land them both, which saved the day. After this, it is safe to say, it was a no go for CF.
Friday morning was an 'abnormal' start for us; we had a late circle up at 09:00 and wheels up at 09:30. Had we taken the 'normal' 07:00 wheels off load we would probably have missed the second wall of thermals. Those thermals had not only quickly broken our formation yesterday, but also the confidence of some of us, which was very understandable. Despite that, a thorough debrief and a 6-way test jump at sunset to check the air conditions kept hold of a 'willing' group of 38. Nicolas, who did an excellent job during the last jump by keeping his row 6 wing flying under extreme conditions agreed to step back to make a 36 diamond with stinger possible. That was great teamwork from you Nicolas, on more than these two occasions. Thank you for being part of our group. So, before we could make our night record attempt, the test jump and award ceremony took place, at the same time… leaving some award winners out of the ceremony. Brian, Kermit (Ken Kniech), Szymon, Eduardo and Yuliya, thank you for sacrificing a moment of fame for our safety.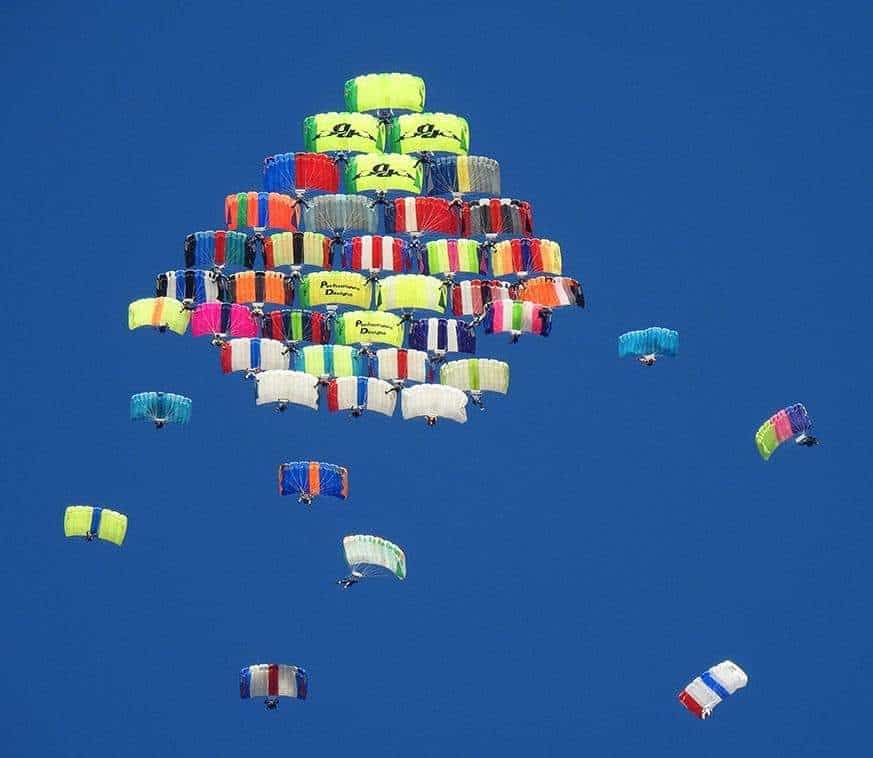 The Path of Excellence Awards for the 100-way record holders were opened by the Red Bull XRW Display Team. This included intentional low pulls at 1,000ft by two members of the team. A very impressive show indeed.
After the Red Bull Team's performance, the award ceremony included an excellent display of the CF and organisation skills; the participants in the 100-way record were grouped in to supporters, sponsors, cameraflyers, those on the bench and then, by exit order, the athletes. All individuals in these groups were honoured.
There was also an unexpected tribute to an act of heroism that was shown during one of the training jumps made in preparation for the 100-way. Chris Gay and Maria Russell were asked to come forward. During one training jump above Empuria Brava DZ (Spain) Maria was in collision with another jumper on exit and was knocked unconscious. Bruno Brokken wasn't mentioned here but it was his watchful eye that spotted Maria and then captured Chris' heroism on video. Bruno himself made one attempt to top-dock Maria but was held back by the fact that he was jumping a highly loaded 135 main. "I didn't want to collapse her canopy" was Bruno's comment to me after the ceremony. Bruno, I recall that many years ago, in 1990 at your home DZ of Moorseele in Belgium, during an FS-speed star event, UK jumper George Pilkington was also knocked unconscious on exit and you, as a cameraman, spotted him and dove to his rescue, you were already my hero with that rescue. I am honoured to have worked with you for the last two weeks.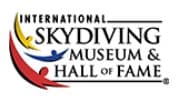 The focus at today's ceremony was deservedly on Chris' action in saving Maria. The video that most of us had never seen before was shown on the TV screens and many shed a tear. We all witnessed a truly impressive act of absolute valour from Chris. It's an honour to be part of the CF family, which holds so many heroes. How much safer can you be than jumping with this kind of back-up? While the ceremony did not mention the missing friends who are not among us anymore, moments of thoughtful silence must have passed through many of us. After this, it took a bit of time to reset again for the night jump still ahead of us.
In the meantime, the test jump, with Craig O'Brien on camera, turned out to be a beautiful sunset jump. 'The air was smooth, and we watched the sun dropping behind the mountains over Elsinore" was Yuliya's description of the experience. So that put the light for the night jump on 'go'. We head clean air waiting for us in the dark! The CF crew headed back to their goal for today, 37-way, here we come! Lights and pyrotechnics were checked, resulting in a sea of alternating LED lights in the packing area. The last changes in slots were rehearsed before boarding the aircraft. During the flight up, calmness was practiced in the airplanes as well as by the air through which the planes moved.
In spite of, or because of our training jumps and the issues we experienced, the jump in the dark had its difficulties and…. actually it was too much. The issues were in several rows in the formation and were eating up the declining working time too quickly. Unfortunately, right rows 5 and both row 6 could not hang their wing on the formation. Only the Spanish, which we had heard throughout the week coming over the radio in between our own communications, added a lighter side to the jump . "Hey, Manuel, look up, look up, check that, are they aliens?" and more of that kind of comment followed. In March, when we built the 36-way night record in Sebastian, several UFO reports were filed. Because of this, the DZ had already informed the police and fire brigade about our night record attempt but that doesn't diminish the fun of roaming through the air at night and being mistaken for a UFO 😉 .
The trill must have been even bigger when the 20-way did their starburst and after that, at 2,000ft (610 m), the row 6 jumpers fired their pyrotechnics. Not a night record, but still a impressive show for those on the ground. Thank you:
Skydive Perris for hosting and facilitating us
The International Skydiving Museum & Hall of Fame for putting us in the spotlight
CFS for organising and sponsoring night light suits, pyro and landing lighting system.
Keith Macbeth of Skydive Moab sponsoring the night fee.
Pasi Pirttikoski for being a great roommate this week.
Notice from the Webmaster:
Thank you, Henk for the insight into the last week from China and California. That was very hardworking! Many thanks to all who have sent the website photos (Chico, Kermit, Keith, Bruno and Gustavo). Mary has again edited the text and checked the English. If we all do things like these for our discipline, we can carry on with the great work that makes me so happy.
Each of us can play a part in this! It is important to support a website that does things Facebook can't, that is self-sufficient, in that it doesn't depend on advertising or other interests, and where everything is sorted automatically into a clear and accessible archive, thanks to WordPress (an open source program).
I hope all goes well over the winter-time and to see you in the air next year,
Seele