Spring Fling in Lake Wales was going on
March 22 – 25
We are on the last day of one full week of the Spring Fling event and we are looking back with much satisfaction to a time of friendship and big fun. Of course, we must make mention of the two 50-way formations and the one 49-way of which we were all able to participate.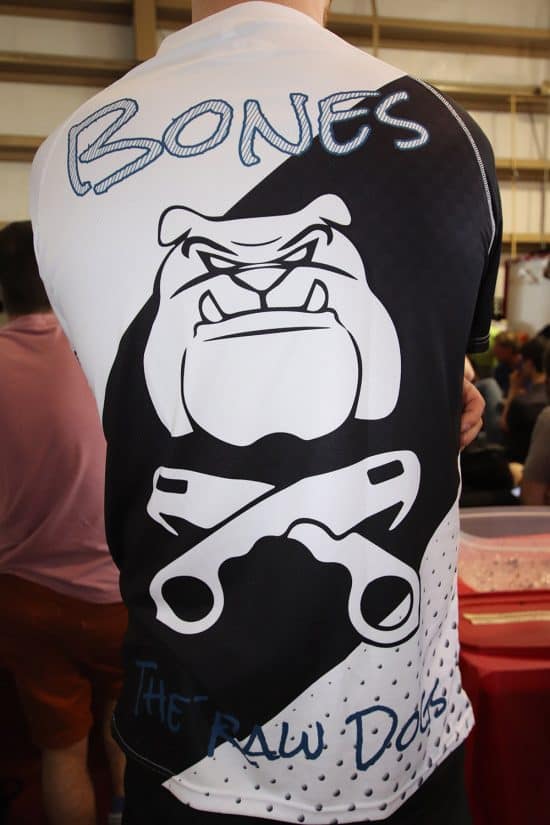 The idea of the 49-way started at the Spring Fling 2017 when a 36-way was flown in one of the sunset loads. By then it already was a historical fact because after the 100-way from 2007 big-ways there had not been such a large formation flown. All the crEUw members who could and wanted to get in to the 49 and 50-way got at least one slot. Some of us were in the 25-base and flew in all of them. These formations flew perfectly and were very impressive to see. Not only from the ground, but also when you hang in them. What a rush! Brian and Chris kicked some ass by engineering these big-mamma's, congratulation guys for keeping us safe.
Earlier in the week there was a full program. In the first days we flew allot of small ways so everybody could wake up from their winter sleep. Pups did their first CF jump starting out with one on one with an instructor, a coach or a very experienced CF jumper. After several small way formations, some of them got in the 49 and 50 way mentioned earlier. Wow, yeah it IS possible!!!
For those wanting to do something more exciting, the acrobatics classes gave them the excitement they never expected. There were side-by-side, three side-by-side and down planes to fill the air. The three EU-competition teams which get their training from Brian and Scott are taking back allot of 'home work' to practice at their own DZ.
The crEUw team is already looking forward to next year as Spring Fling is offering the Northern CF jumper the ultimate environment to prepare for the season to come. Thank you Brian, Chris and Staff for this opportunity.
March 19 – 21
Our bad weather days were Tuesday (rain) and Wednesday (strong wind)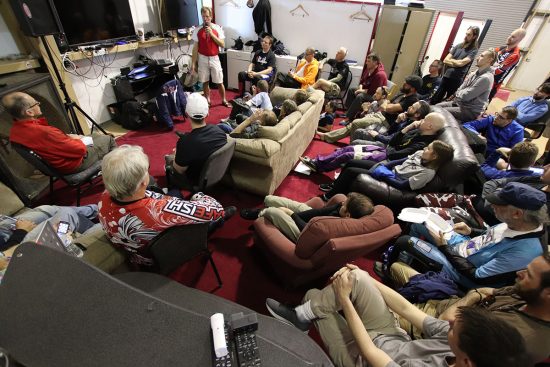 New flags were hung in the hangers of Lake Wales. It was the flags of the Czech Republic and Poland that had not been raised here yet. Visually, the hanger was then represented much more internationality. But because we do not advertise by chance on the ECF site for gaining experience in the USA, the blue flag with the 12 yellow stars in a circle was not missing. This flag now hangs in the hanger of Lake Wales.
The bad weather allowed for presentation of theory. Like the General Briefing, a lecture on the piloting of a formation was also presented by Brian Pangburn. His in-depth knowledge went into it and Brian has excellently explained with a lot of experience.
On Wednesday morning it was the preparation for the acrobats of our discipline. The Parabatics are not an official sports discipline. But it is often the reason why some skydivers are interested for canopy formation, to inspire or want to start with it. It is an interesting opportunity to perform at outdoor landings or at events spectacular. There are a variety of forms with which parabatic skydivers appear.
With or without straps is a question of principle. Downplanes, Pinwheels, flag jumps or the joint jumping on the parachute even with fireworks were explained. In this workshop Brian was supported by Bob Edmiston. After the theory we could do only one jump before the already strong wind got too much to go up anymore.
The rest of the week the weather forecast is much better predicted. There are also more and more jumpers arriving, who came only for the Spring-Fling weekend. This allows all participants to translate the extensive facets of the Canopy Formation from theories into practice.
March 17 & 18
crEUw Members signed in for the yearly Spring Fling event at Skydive Lake Wales, organised by Brian Pangburn. This year the event is organised over a nine day span, giving room to much sub-disciplines in crew.
We also welcome a pretty big class of Pups, participating for the first time in crew. Welcome to you all!
An attractive sub-discipline is the acrobatics, Justina did her first down plane, having the thrill of her life!
Besides the bigways, also new on the Spring Fling is the competition coaching. Three crEUw competition teams did start the coaching program lead by Chris Gay. So while the Fling Spring just started, we are already excited by the choice of possibilities to choose from and are looking forward to a week of fun and gaining more and more cf-experience.
Like Ben was saying, redocking 3 times in one jump as number 2 and George did a 3 point 9-way ff a 2 point 12 way asking op in 3 stairsteps. Imagine the view and the excitement. Yes, we do rock and role!
But, sadly, we had to close our second day of Spring Fling, missing out Justina in the sky with us for the rest of the week, due to a unfortunate landing. If you travel far to have your ultimate fun, a hard landing sometimes get to you more than expected. Hang in there Justina.
Now a new day is awakening and we are looking for new adventures!
crEUw skies for now
Text: Henk & Seele
Photos: Seele