The FAI has ratified our European record!
We are proud to announce that the FAI has ratified our European record!
The compilation of the formation was determined by many aspects. Other jumpers could have flown on this jump, but the interchangeability of the wingloads and different sized parachutes forced us to a compromise.
Unfortunately, for reasons of weather, it was no longer possible to have all members of the project fly in a large formation. Either in the same size or even bigger than 25. We will continue to work to ensure that further participants can be represented in a European record.
FAI Record File Num #18026
Status: ratified – current record
Region: European
Class: G (Parachuting)
Sub-Class: G-2 (Performance Records)
Category: General
Group: Largest Formation Records – Canopy Formation
Type of record:     –
Performance: 25 parachutists
Date: 2016-10-08
Course/Location: Teuge (Netherlands)
The Crew on this jump:
Netherlands





Gerben Frankvoort
Henk Lunshof
Eward Slot
Henny Wiggers
Wilco Peppelman
Richard Meijer
Frans van Wijngaarden
Germany




Thomas Brand
Peter Pfalzgraf
Thomas Rohde-Seelbinder
Marion Jankowsky
Andreas Jankowsky
Holger Gnoth
Poland




Marcin Bak
Michal Balonis
Pawel Michalski
Szymon Chelmicki
Maciej (Gajos) Gago
Finland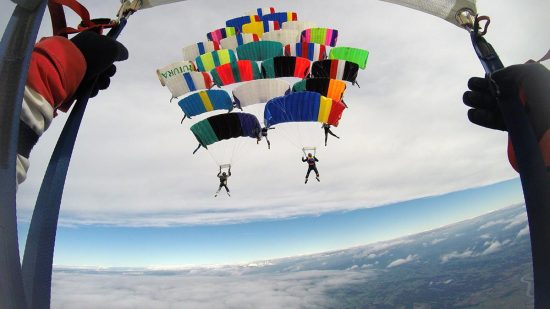 Pasi Pirttikoski
Matti Pirttikoski
Heikki Kammonen (EU-Record Video)
Romania




Ciprian Drobota
Sorin Enghel
United Kingdom


Martin A Robiette
Ming Chu (EU-Record Video & Photo)