Kilo 16way Training Part two
On 20 and 21 May, the last summer-event from Teuge took place with 15 crEUw dogs from Germany, Belgium and Holland. On Saturday there were 15 participants and on Sunday 12, we made five jumps on Saturday and four on Sunday.
The diversity in participants' skills ranged from five cf-jumps up to world record experience. The sequential jumps were mostly with two points and multiple formations. Also some very pretty 'pieces, pieces' dives were engineered. The KILO-team, which has done some serious training beforehand, was flying a fast base, giving us much confidence in our September meeting later this year. Teuge also introduced their new super grand caravan to us. The PH-FST, the third Caravan that DZ Teuge runs, brings us, guided with music, up to 9000 ft in less than eight minutes! The subwoofer for the music is easy to hear and brings all jumpers into a positive mood until the exit and is even missed under our open canopies. What a silence. At least now everyone knows what the actual idea was to leave the plane, Focus!
Laurent did some pretty good camera work again, thank you Laurent, while Seele tried some experimental photo-foot-grabbing in front of the formation, you can see the results in some of the photos here. Also, compliments to Eward for engineering the dives, Gerben for flying the formation like a boss and Herman for his clear and structured briefings, great job guys. A huge thanks to Febe Smits for even looking us up in the briefing room to manifest for the next jump, Febe you are great!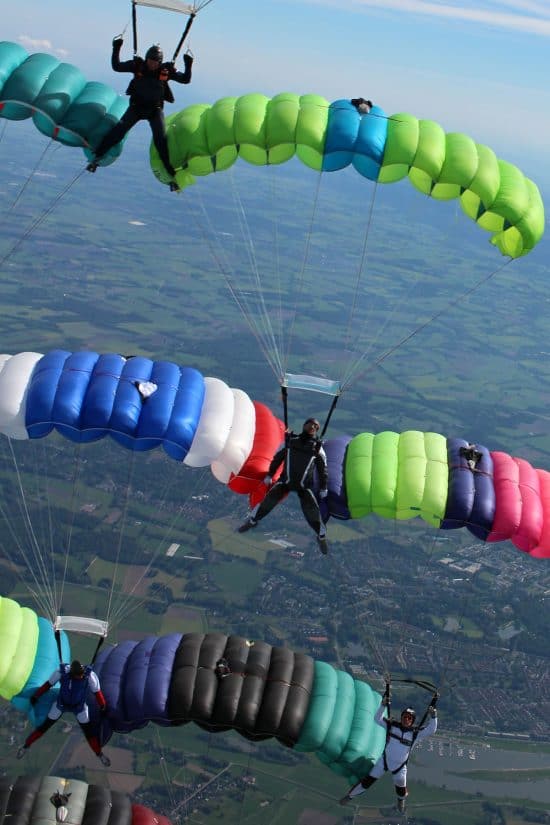 Now we are looking forward to the upcoming summer with the new CF-Challenges in Poland, the summer boogie in Estonia and for some of us national championships in August.
Text: Henk Lunshof
The complete List from the weekend:
Laurent (Video, NL)
Gerben (Pilot, NL)
Eward (engineer, NL)
Herman (coach, NL)
Tom (GER)
Seele (GER)
Peti (GER)
Wilco (NL)
Henk (NL)
Frans (NL)
George (NL)
Roland (NL)
Henri (NL)
Saturday:
Ben (BEL)
Onno (NL)
A photo gallery-selection of both weekends

Press: German FreifallXpress 4/2017