In September 19-24th 2022 we are gathering in Poland (SkyForce DZ) in order to set new European Canopy Formation (CRW/CF) Record, 36-way diamond, that will beat our last 30-way record set in 2018 (SkyDive Teuge / Netherlands)!
Core Info
WHAT: 36-way European Canopy Formation Record (planning).
WHEN: 19-24 September 2022.
WHERE: SkyForce, Piotrków Trybunalski, Poland (51.38360060192078, 19.68344455635322).
REGISTER: questionnaire -> p.pfalzgraf@gmx.de + szymon@rajdy4x4.pl.
ENTRY FEE: €100 (IBAN PL63 1050 1979 1000 0092 8712 5752).
DEADLINES: Registration + Entry Fee until 17th August 2022.
PAPERS: FAI Sporting License, SkyDive license, Insurance, Parachute documents.
WHO: CRW/CF jumpers that meet all above criteria and are accepted by the organizers to attend the Record Camp.
Invitation
The European CF Record camp this year will be for everybody who wants to improve their skills to participate in European Record Attempts, be it this year or in the upcoming years.
After training camp in July at Hungriger Wolf / YUU SkyDive we are (hopefully) ready for the challenge! We will also have a great opportunity to improve our skill and get the record training under the wings of special guests from USA Brian and Julia Pangburn. Julia will dedicate training sessions for the girls CF teams 🙂
As we want to achieve a 49-way diamond in future we need enough experienced CReW Dogs for the years to come and also those who have some experience need some routine to be current for the record jumps. We will start the camp with 4-way and 9-way formations and progress to 16-ways before we got on to the big ones. Percy Kristersson will be our FAI Judge from Sweden on site.
To be part of an international record, you need a valid FAI Sporting License of your home country. Everyone also needs a valid license, insurance and parachute documents. Also you should participate in one of our camps this year to prove your current skill set in order to participate in the Record Jump.
If you do not intend to participate in this year's record attempts, you do not need an FAI Sporting License. All CReWdogs who want to improve their skills for future events are welcome to join this camp. There will be organizing and coaching for them.
The fee €100 has to be paid until August 17th 2022. Late entries may be accepted after registration deadline at a fee of €130 if there is room. This late entry fee applies to everyone!
ORGANIZERS MAY REJECT UNKNOWN/UNSKILLED JUMPERS APPLICATIONS
If you want to be updated about future events, send a mail to: p.pfalzgraf@gmx.de . I will include you in our mailing list. Also, if you know of CReWdogs who might be interested, send their addresses.
Camping is possible at the DZ. There are also 4-bed bunk rooms, food and a bar at the DZ. The jump rate is about €30 at this time. Changes can occur due to the current circumstances.
Simon & PETi (organizers)
Location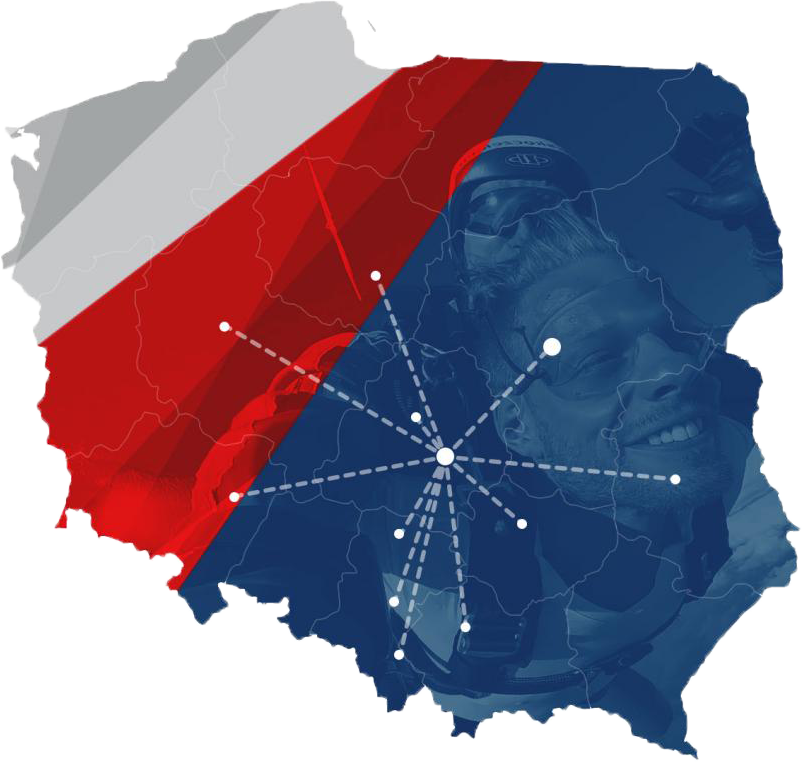 SkyForce is one of the biggest Drop Zones in Poland, providing two SkyVan airplanes, large hangar for skydivers jump operations and four stacked bed stacked container houses to sleep at night. There is even a swimming pool for hot days waiting for you after jumps 🙂
Documents and Files
References