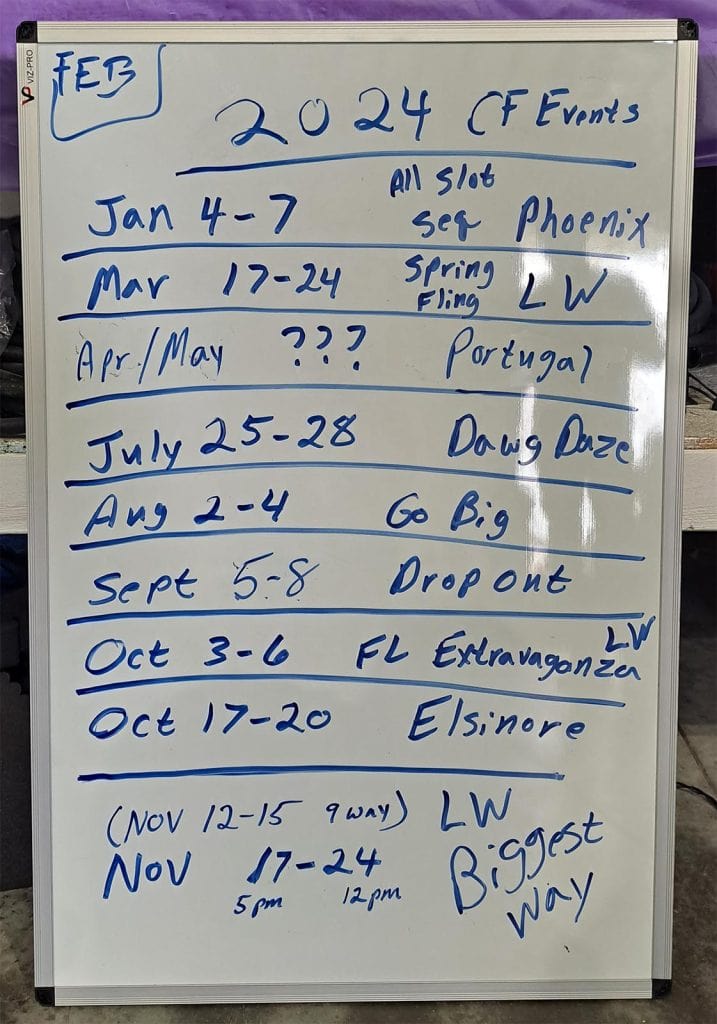 Our calendar page is managed via our Google account and mirrored 1:1 on this page. We enter the notes for the corresponding appointments in the Google calendar and can best be viewed in the agenda blocks. We distinguish between European events and events worldwide.
Both calendar variants are public and can also be imported into your own calendar management. If you are interested, please contact Seele. He will then send you the sharing link.
Here are the pre-announcements for Europe
Please contact me for additions or changes!
Worldwide CF dates displayed via agenda blocks
January 2024
Thursday

January

4
–
Monday
January
8
All Slot CF Sequenz (Phoenix, USA)

Event Type: SequentialCamp
Skill Levels:Moderate (4 Way+)
Event Page:https://www.facebook.com/events/6935323656507085

Contact: Eric Gallan (e.gallan03@gmail.com)

Description: 4 to 9 Way Sequential. Advanced or Newer Groups
March 2024
Sunday

March

17
–
Thursday
March
21
Spring Fling CF4-way (FL, USA)

2024 is the off year for Spring Fling and it will only be a 4-day event – however – for those wanting more of the 4-way scrambles/camp we did this year, we will have 4-way scrambles again the 4 days prior to Spring Fling.

March 17-20th for the 4-way
March 21-24 for the Spring Fling
Thursday

March

21
–
Monday
March
25
CF Sequential Spring Fling (FL, USA)

March 17-20th for the 4-way
March 21-24 for the Spring Fling
May 2024
Thursday

May

16
–
Wednesday
May
22
crEUw (Hildesheim, Germany)

I would like to hold a CF-Camp 16.-21.05.2024 flying 8-way or 9-way formations with rebuilts in groups with the option to fly 16-ways towards the end of that camp.

It is not intended to train puppies and change groups if not necessary. That way I expect to get the best training effect for everyone. Of course, we will have precise briefings and debriefings and try to help everybody to improve.

That means we need predetermined groups of 8 or 9 with one video person to start with. The preferred location at this time is Skydive Hildesheim near Hannover.

To see if it makes since to work on this project I need to see who is interested, I need a positive e-mail response from everyone who wants to participate until the 30th November. If we have at least 18 people, including 2 video persons, I will continue organizing.
Seele will set up a list on our website where we will list the persons who want to join. The camp will take place if I receive the entry fee from at least 18 jumpers until the end of February.

If you want to join, please send a message to me until the 30th November.

Ther PETi
June 2024
Wednesday

June

5
–
Monday
June
10
CF Camp, Västerås, Sweden

Org by Pasi Pirttikoski (loads)
Plane Caravan
Goal ~9-way sequential
July 2024
Thursday

July

18
–
Monday
July
22
CF Camp, Utti, Finland

Org by Pasi Pirttikoski (loads)
Plane Caravan, C-206 turbin
Goal ~9-waysequential
Thursday

July

25
–
Monday
July
29
Dowg Daze (USA)
August 2024
Friday

August

2
–
Monday
August
5
Go Big (Canada)
September 2024
Thursday

September

5
–
Monday
September
9
Drop Out 2024 (Canada)
October 2024
Thursday

October

3
–
Monday
October
7
Fly Extravaganzen in Lake Wales (FL, USA)
Thursday

October

17
–
Monday
October
21
CF in Lake Elsinore (CA, USA)
November 2024
Tuesday

November

12
–
Saturday
November
16
Lake Wales CF 9ways (FL, USA)
Sunday

November

17
–
Monday
November
25
Lake Wales CF-BigWays (FL, USA)